Video (VAST) Tags Mediation
Video (VAST) tags mediation is one of Smaato's core ad server functionalities. We enable publishers to bring in their ad partners' own VAST tags and allows the ad server to serve an ad depending on the line item configuration. The functionality aligns with the primary offering of an ad server where the publisher is given the opportunity to receive the best outcome out of multiple demand sources. First, you should have a VAST tag from your ad partner demand source.
Guidelines for VAST Tags
Wrapper Resolution
Smaato will attempt to resolve VAST wrappers if and when returned in the response of your ad partners' VAST tags. In case the line item containing the video tag delivers a wrapper and the wrapper does not yield in an inline ad, then the mediation logic will move on to the next eligible line item.
Therefore, please ensure the following with your VAST tags providers: VAST wrappers must yield in an ad otherwise an ad will not be delivered from their VAST tag.
Macros Replacement
As seen on the Smaato Ad Server Macros page there are specific macros supported by Smaato. In the case that there are macros that Smaato does not support, please input the VAST Tag along with the macros as supported by your third-party provider.
Create A New Custom Network Order
Next, you should create a New Custom Video Network Order in the following way:
In SPX, select the Networks tab and then click the button for + New Network.
---
In the Add New Network window select the button for Add Custom Video Network +.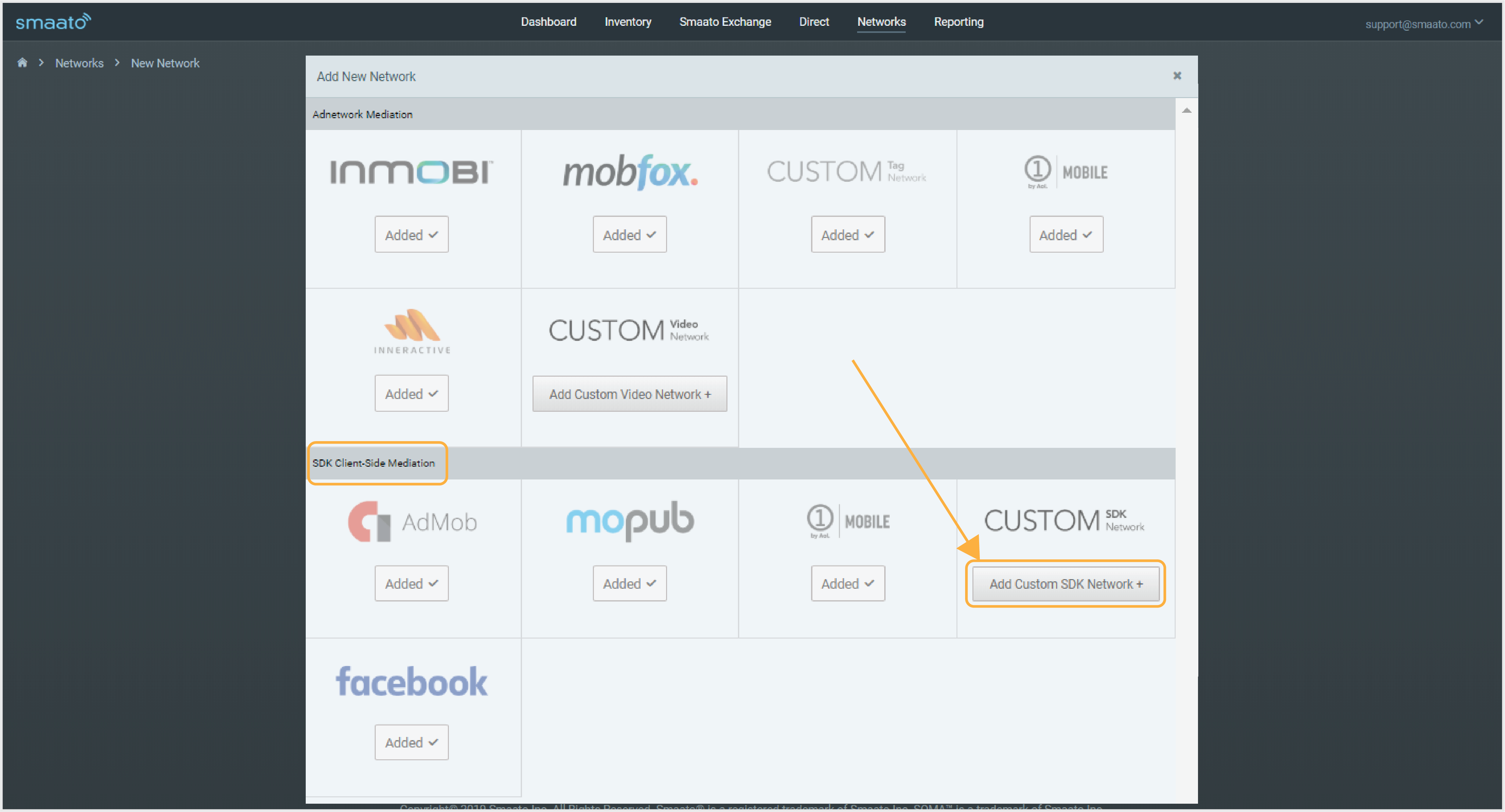 ---
Now enter the Network Name* of your video ad partner demand source.
At this point you can simply Save your new Custom Video Network,
Or you can go straight to creating new Line Items by clicking Save & Create a Line Item.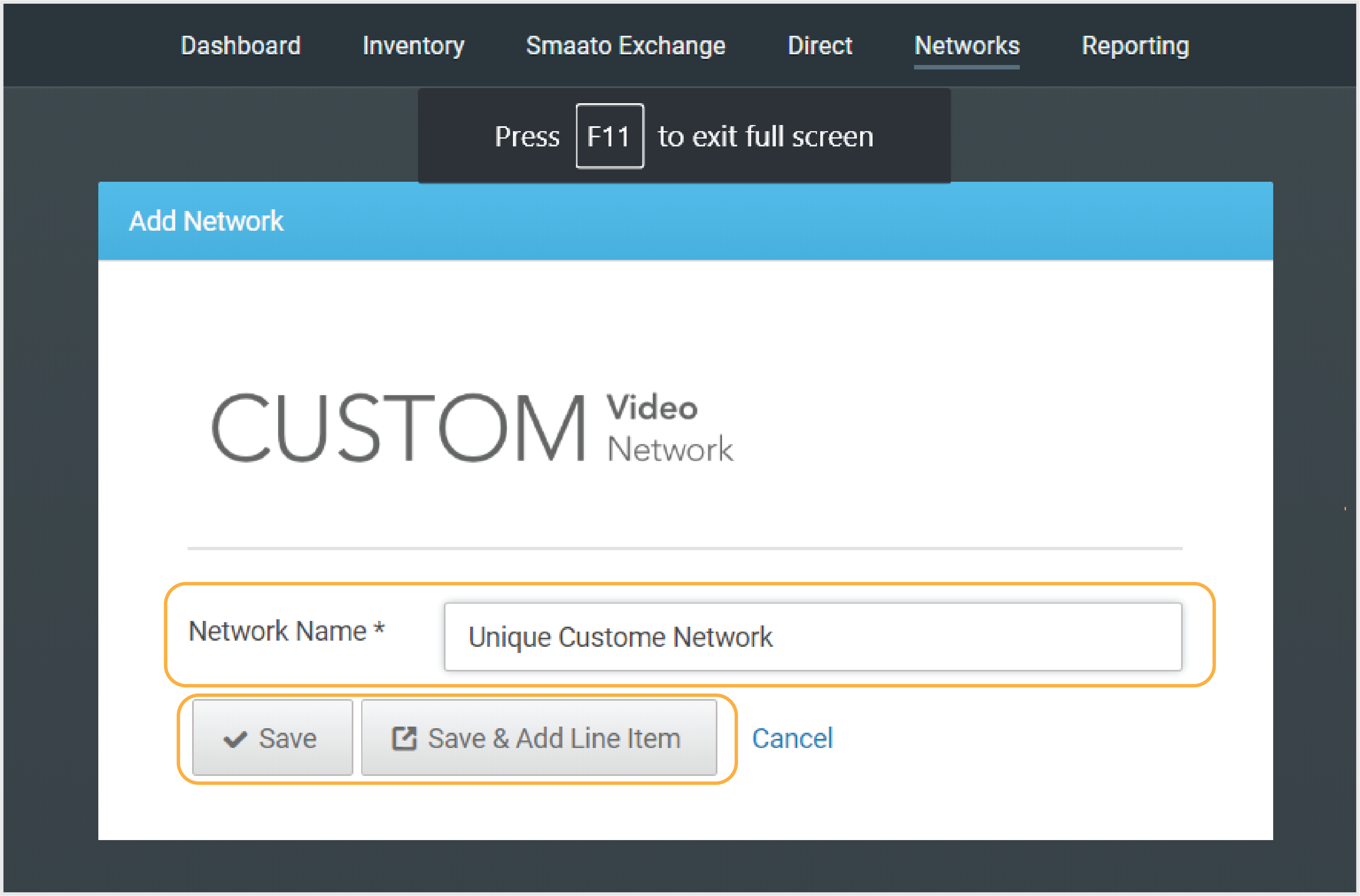 ---
When creating your custom network line item, many of the fields are mandatory to fill in order to save.
Name of the Line Item
Set a Priority for this Line Item
Setting the priority is extremely important because the priority will decide at which point in time your ad partner demand source will be called.
We recommend setting the same priority as your Smaato Exchange Line item in order for our Dynamic Demand logic to activate and provide you with the best possible price from our pool of demand sources, while allowing your ad partner demand source to compete fairly alongside Smaato demand.
Traffic Allocation
Setting the traffic allocation in terms of the share of voice that should be allocated to your ad partner (i.e. for A/B testing).
Manual CPM Rate
Based on the deal with your ad partner it is very important to make sure that you enter a CPM Rate which you expect to be fulfilled by the returning ad campaign.
Competing with SMX Demand – If you have two Line Items 1) Smaato LI & 2) Custom Video Network LI and you place both of them at the same priority then CPM Rate you enter for your Custom Video Network LI will be considered as the deciding factor while delivering the final ad response back to you
Tag URL
For the Tag URL you will need to paste in your VAST tag URL from your ad partner, with the Adserver macros that Smaato allows. 
Below the URL entry box, you will find the link to the Smaato Wiki where you can find all of the most current adserver macros available by Smaato.
Requests
For requests you have the option to select Unlimited or Capped, the default is set to unlimited, but if you prefer to limit the requests at a specific capping then you can select the option for capped.
Pacing
For pacing, you have the option for As fast as possible or Evenly. The default is set to As fast as possible, but for an evenly distributed pacing you can select the later.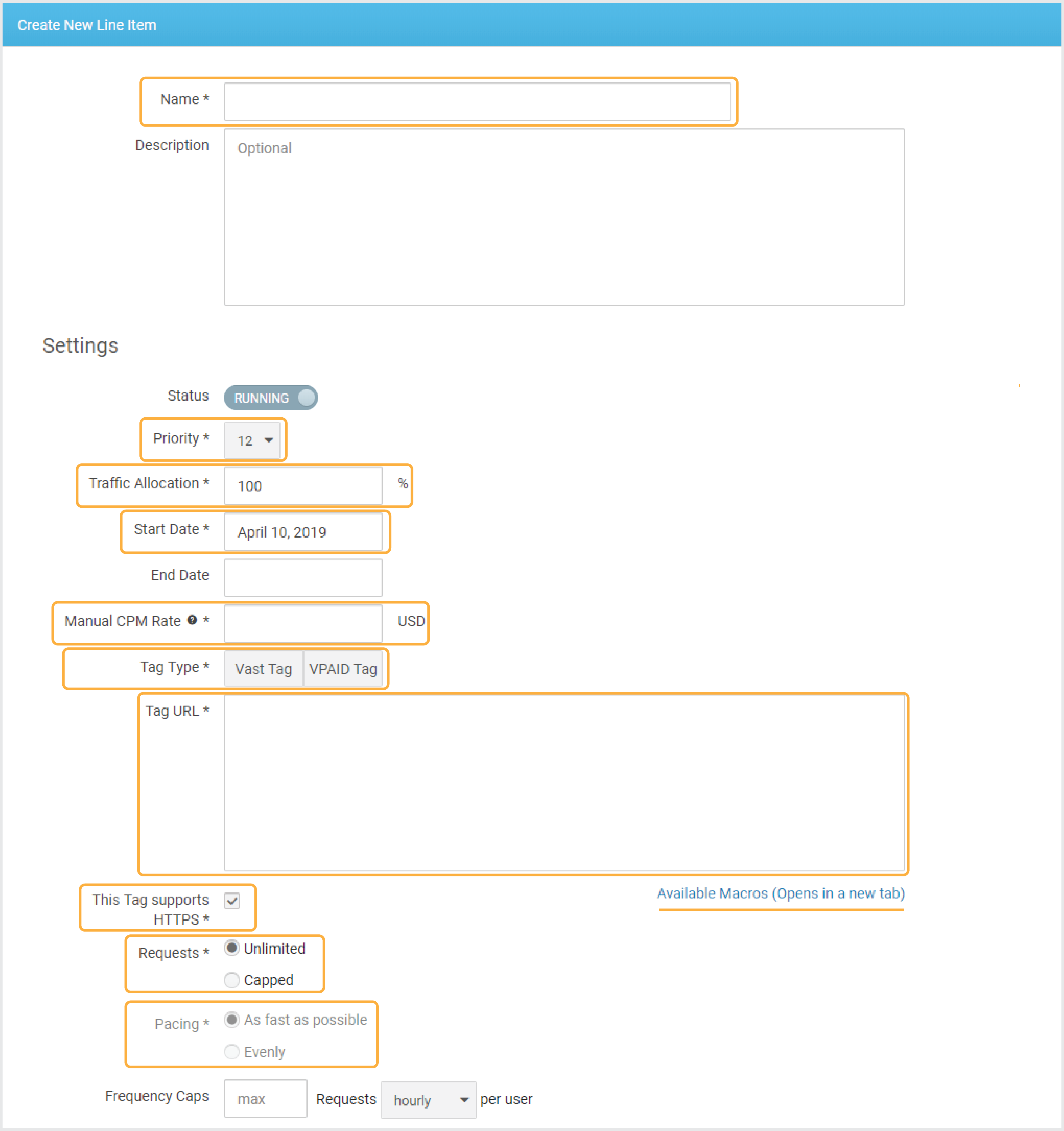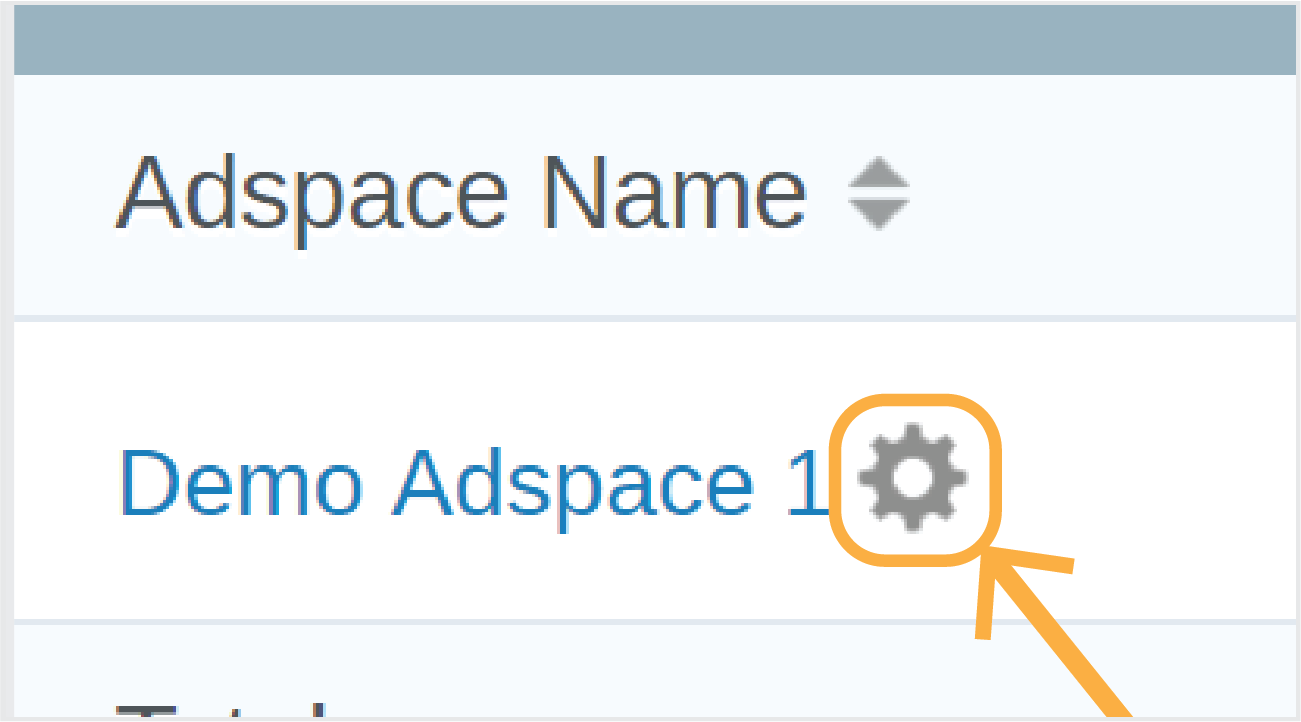 ---
Setting up Your Targeting
Once you have entered all of the mandatory details for your custom network line item, you then have the option to assign your targeting options.
You can always add your targeting for the custom network line item at a later time.
---
Generating VAST Tags
You can also generate VAST tags in SPX.
Click on an App or Website you've created on the Inventory tab. You can also just hover over your email address at the top right of your screen.
Click on the Integrations Options button.
Click on the VAST tab.
Next select a specific video Adspace from the Adspace drop-down.
Fill in any necessary values/proprietary macros (optional).
Then copy the generated VAST tag from the text box to the right!
---
Important Note: For all adspace integrations, please always remember to select if the adspace is Subject to GDPR or is Not Subject to GDPR. By default this is set at optional, but we highly recommend to set this. This is especially important if you have users in Europe.

---
You can use the generator to add your own macros. You can use the following examples as example VAST tag parameter values when testing your VAST tags:
| PARAMETER | EXAMPLE |
| --- | --- |
| Device IP | 212.120.141.168 |
| Device (User Agent) | Apple-iPhone/501.347 |
| Reference (Referrer) | www.example.com |
| iOS ID (IDFA) | AEBE52E7-03EE-455A-B3C4-E57283966239 |
| iOS Tracking (LMT) | true (to disable LMT), or false (to enable LMT) |
| Google Ad ID | 38400000-8cf0-11bd-b23e-10b96e40000d |
| Google DNT | true (to enable DNT), false (to disable DNT) |
| Latitude | 37.530676 |
| Longitude | -122.262447 |
| GDPR | Not Subject to GDPR |
| GDPR Consent | 0 |
Important Note For Outstream Video:
If you're a web publisher mediating VAST tag ad partners, and using Smaato's web SDK to show Outstream Video, please see the following documentation
here
. Since a scrolling action is needed in order for the video to auto play, the Outstream Ad Tag should be wrapped by enough scrollable content 
before
 and 
after
.
Last Modified: November 5, 2021 at 11:47 pm
---
© 2005-2020 Smaato, Inc. All Rights Reserved. Smaato® is a registered trademark of Smaato, Inc.