App Inventory
What is an app in SPX?
An app within SPX  is an actual mobile application or website with at least one adspace.
How many apps can I create inside SPX?
There is no limit to the number of apps that the publisher can create inside the platform.
Am I obligated to enter detailed information about my app and/or adspace?
Not all information fields are required to be filled out. However, the more information you can provide, the better we can optimize your traffic.
Getting Started
Upon your first login to SPX, you will see the Welcome to SPX window.
From here you can watch the short video to get an overview on how to get started, or you can go directly to adding your Apps and Adspaces.
To get started, click on the button for + New App and follow the steps below.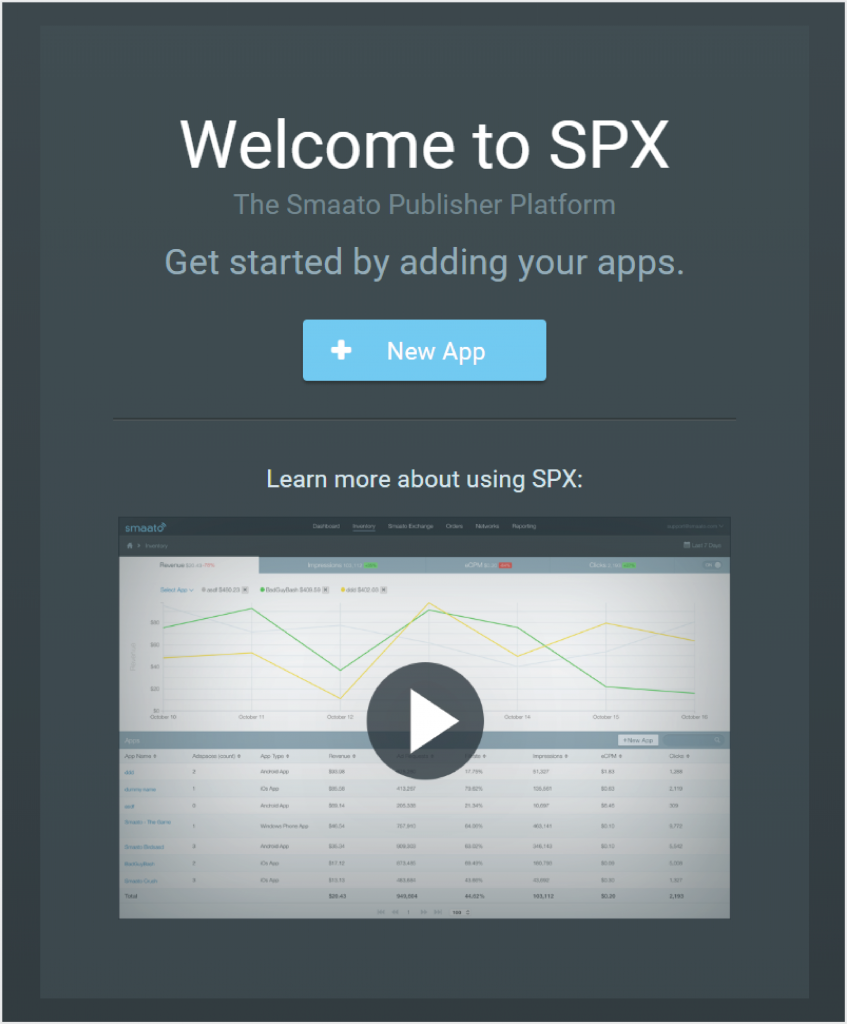 ---
Next, you will see the Create New App window where you will need to enter some mandatory details including:
App Type*
App Name*
Download URL*
Category*
COPPA*
You also need to start by adding your Adspace(s).
Create New App:
Choose the operating system (OS) for you app (or choose 'Mobile Site' if you're looking to integrate a mobile site)
Enter your app name (and optionally, a description).

We recommend adding the name of the app with the operating system (OS) separated by spaces and a dash, this is especially if you have one app set up for both Android and iOS. See here for examples:

App Name – iPhone or App Name – iPad
App Name – Android

Enter the app download URL from where your application can be downloaded (i.e. The App Store and Google Play Store). For mobile sites, simply add the website's https URL.
For the app category, we recommend choosing the most applicable IAB category from the drop-down list. Remember to choose this category based on the content of what your app is about.
Next, you will need to check the box for COPPA, this is to confirm that your app is not directed at end-users under 13 years of age and defined by the Children's Online Privacy Protection Act.
Lastly, you will then need to start defining your Adspaces, which are the ad placements inside the app that you want to monetize.
For more information about creating Adspaces, please see the documentation here.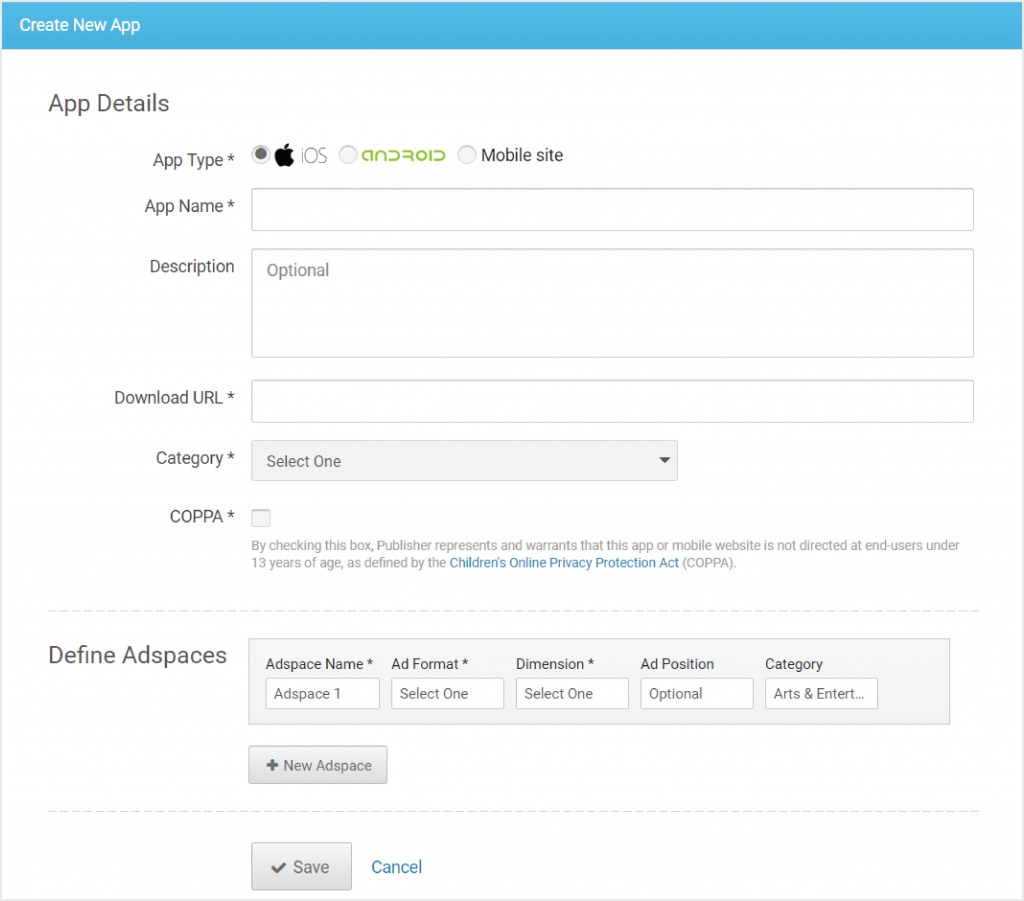 ---
---
Important Note About Apps and COPPA Compliance
At Smaato we support all regulations regarding consumer and child data privacy protections. To be compliant with these regaulations we have adopted an automated systm that will deactivate any app that deos not indicate if it is compliant, i.e. by checking the COPPA box when creating an app in SPX. If your app is deactivated it might be because you have not indicated if your app is COPPA compliant.
1. To resolve the issue of a deactivated app, please contact your dedicated Account Manager or send a message to [email protected] to have the app reactivated.
2. Once reactivated, you will then need to login into SPX and then indicate in the app settings that the app is compliant with COPPA regulations.
Please Note: We will only support apps that are compliant with COPPA regulations. If you do not know if your app is compliant, please make sure to review the regulation guidelines.

Last Modified: August 31, 2023 at 11:49 am