Google Ad Manager | iOS
If you would like to access the documentation for the Smaato NextGen SDK, please
click here
.
Here you will find the instructions for configuring Smaato's iOS SDK as a yield partner with Google Ad Manager (DFP).
Add a new yield partner
Sign in to Google Ad Manager.
Click Admin > Companies.
Click New company > Ad network.
Click and select > Other company.
Type in the name > Smaato SDK.
Select/check to enable mediation.
Now click Save.
Then choose the option for Delivery on the left side of the screen.
Proceed to Delivery > Yield groups.
Select the Smaato SDK as your Yield partner.
For Integration type select Custom event.
Select the iOS operating system.
For Label type in Smaato SDK Reporting.
For Class Name, enter the following Ad Format options:

For Banner Ads:

SOMAAdMobBannerReceiver

For Interstitial Ads:

SOMAAdMobMultiFormatInterstitialReceiver
For Parameters, type in the following with the correct Publisher ID and SPX Adspace ID:

publisher=<yourPublisherID>&adspace=<yourAdSpaceID>
Enter the CPM for the Ad space.
Click Save.
Example Custom Event Banner Setup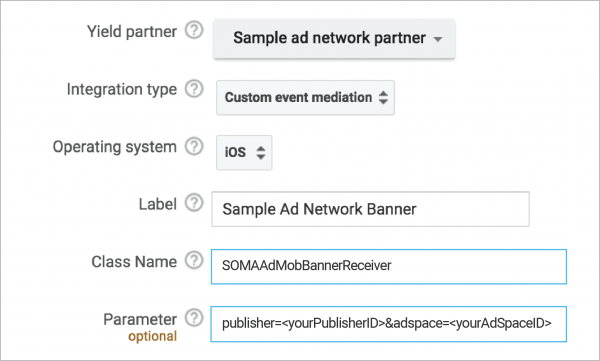 Example Custom Event Interstitial Setup
Last Modified: February 20, 2020 at 3:21 pm
---
© 2005-2020 Smaato, Inc. All Rights Reserved. Smaato® is a registered trademark of Smaato, Inc.