DFP and Exchange Bidding
If you would like to access the documentation for the Smaato NextGen SDK, please
click here
.
Introduction
This guide provides information on how publishers can integrate Smaato as an ad network utilizing Google's DoubleClick for Publishers (DFP) and Exchange Bidding (EB).
Getting Started
As a publisher, you must:
Use a Google Publisher Tags (mobile web) or Google Mobile Ads SDK (mobile apps) setup.
Link at least one DoubleClick Ad Exchange account to DoubleClick for Publishers (DFP) as your default account. More information.
Contact your Google account manager to sign an Exchange Bidding addendum to your Ad Exchange contract.
Important Notes:
You will only be required to do this once.
Your Google account manager will process your contract addendum. You will then see "Web" targeting available in the DFP yield groups configuration.
Enable Smaato on DFP
Once you have completed the prerequisite steps above, it is time to enable Smaato on DFP.
This documentation will walk you through all the necessary steps of:
Creating a company for Smaato as a yield partner and enabling Exchange Bidding.
Creating a yield group that targets inventory and includes Smaato as a yield partner.
Supported Mobile Ad Formats
Integrating Smaato with DFP using Exchange Bidding supports the following mobile ad formats and dimensions:
Mobile Formats
Available Mobile Dimensions
Dimension Name
Dimensions
MMA (XXLarge)
320 x 50
Medium Rectangle
300 x 250
Interstitial (phone)
320 x 480 (Portrait)
480 x 320 (Landscape)
Leaderboard
728 x 90
Interstitial (Tablet)
768 x 1024 (Portrait)
1024 x 768 (Landscape)
Important Note: Any format/dimension not listed above may not be supported.
Step-by-Step Guide
1. Contact your Google account manager to sign an Exchange Bidding addendum to your ad exchange contract.
You must first contact your Google account manager and request that they enable Exchange Bidding. This only needs to happen once, as it will apply to all current and future Exchange Bidding partners. Google will process your contract addendum. You will then see a new targeting option called "Web" in your DFP yield groups.
---
2. Confirm with your Smaato account manager that you have an existing agreement or an IO signed. If this is not the case, contact your Smaato account manager and they will prepare an agreement.
Smaato does not require a separate addendum if an existing agreement or IO is in place. All payments are handled by Google and are determined by Smaato's impression delivery volume. Payments are sent to publishers within approximately 30 days of the end of each month. Reporting will be available within DFP.
---
3. Contact your Smaato account manager to activate the "Smaato" option in your ad network list.
Your Smaato account manager will ask for your DFP network code and the DFP ad unit code(s) for the desired inventory. You will need to clarify the ad formats and dimensions.
---
4. Create a New Yield Group:
Go to Delivery > Yield groups.
Click Create yield group.
Enter a unique Yield group name that is descriptive for reporting purposes, such as Smaato – Exchange Bidding – In-App.
Select the Ad format. The supported formats include Banner and Interstitial.
Select the Environment. The options here are Web and Mobile app.
Enter the Size you would like to target. For a Web environment: Leave this field blank to target any size (recommended), or select which sizes are eligible. For a Mobile app environment: You must specify one or more sizes.
Add Targeting to define where in your inventory this yield group can compete for impressions.
Choose Smaato from the Yield partner drop-down menu.
For Integration type, choose Exchange Bidding to call custom code in your app according to Google's Android or iOS documentation.
Select the operating system you wish to target, either iOS or Android.
Finally, click Save and activate to confirm your changes and immediately approve delivery through Smaato.
Once a yield group has been created and activated, DFP is ready to begin sending requests to the listed yield partners.
If you already have an existing DFP Yield Group,  you can simply add Smaato as a new Yield partner.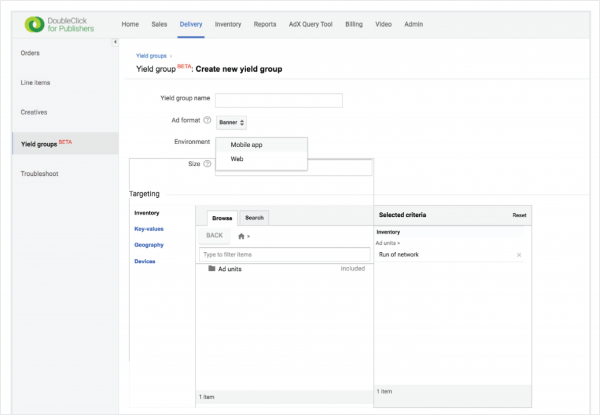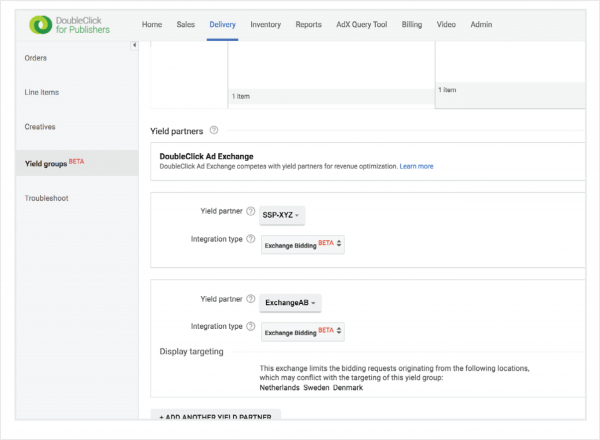 ---
5. Confirmation of Set Up:
Once you've successfully set up your Yield groups, you will find a summary of all your Yield groups.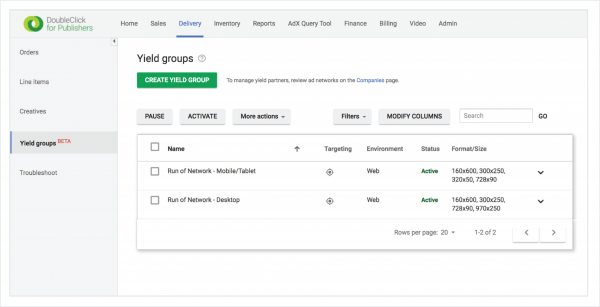 ---
Reporting
Reporting in DFP:
All reporting is available within DFP. You can pull reports on revenue, CPM and bid metrics by yield group, yield group partner (exchanges), etc. Simply click the "Reports" Tab. The following dimensions are available:
Yield Group Dimensions:
Demand channel
Yield group
Yield group partner
Yield group partner tag
Yield group partner type
Yield Group Metrics:
Yield group impressions
Yield group estimated CPM
Yield group estimated revenue
Yield group estimated CPM * Impressions / 1000
Yield group callouts
Yield group successful responses
Yield group bids
Yield group bids in auction
Yield group auctions won
For more information about descriptions of dimensions and metrics, please visit the Google support page here.
Last Modified: September 30, 2019 at 2:19 pm
---
© 2005-2020 Smaato, Inc. All Rights Reserved. Smaato® is a registered trademark of Smaato, Inc.